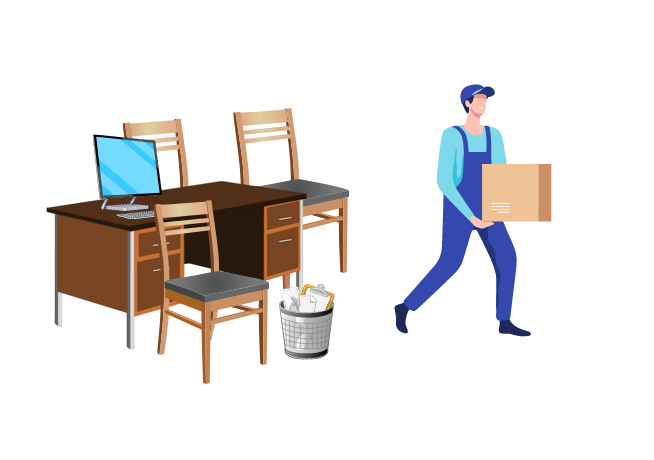 If you are wondering how to dispose of old computers and monitors in an efficient and eco-friendly way, then you have come to the right place. Our office removal experts are on hand to help explain the various ways you can dispose of your unwanted office WEEE waste as quickly, cheaply, and eco-consciously as possible.
What to do before disposing of your old computers
Before selling, recycling, or disposing of your old computer, you must follow two important steps to ensure that your personal details, company, and staff information are safe and secure. These include deleting all personal information from your device and resetting it to factory settings:
1. Erase all personal information 
Regardless of how you intend to get rid of your old computer, you should ensure that you have completed a thorough wipe of the device to ensure that all personal information has been deleted permanently and cannot be retrieved. This ensures that whoever ends up in possession of your old laptop computer or device cannot access any details you wish to keep private.
For this reason, lots of people seeking to get rid of their old computer will remove and destroy the hard drive in its entirety. However, in doing so, you will be unable to sell and donate your device as it will no longer work.
If you wish to resell or donate it, you may instead benefit from backing up any data onto an external device and then uninstalling and deleting any programmes from the device to keep the device working and intact.
2. Complete a factory reset 
Once you have retrieved and noted all important information and documents you need from the old computer, you should restore the device back to factory settings. This means that all user settings are completely wiped, and the computer has the same settings it had when you initially bought it.
Can you recycle old computers?
There are a few ways in which you can organise for your old computer to be recycled, such as:
1. Hiring a professional WEEE waste collection team 
One of the most efficient and convenient ways to recycle old computers and laptop computers is to hire a team of waste recycling professionals who are fully equipped and trained to deconstruct and dispose of WEEE waste on your behalf, usually recycling it.
2. Retailer recycling schemes
If you are upgrading your old computer device with a new laptop or computer in the UK, then you will find that the retailer you have purchased your new device from may be legally required to help you to dispose of your old computer, either by offering a service where they collect the device, or you take it into the store.
3. Free recycling services 
Various free recycling services may be willing to take away and recycle your old computers. For example, organisations such as Freecycle Network, WEEE Charity and Computer Aid often accept donations and collect items to recycle on your behalf. However, these organisations may not operate locally to all homes and businesses, so you may have to consider getting rid of it in another way if this is the case. 
How can you get rid of your unwanted computers?
How to dispose of monitors
One way to dispose of old, unwanted monitors is to take them to your local recycling centre, where they can be put with the rest of the WEEE waste. Providing that they are in good condition, you could also consider taking a monitor to a local charity shop that has sufficient storage and demand for one. 
How to dispose of old laptop computers
Similar to monitors, old laptop computers may be disposed of either by donating or reselling them. However, with plenty of newer, more up to date models on the market, doing so may be a challenge, and you may want to consider the following options as well:
How to dispose of broken computers
Broken computers, unfortunately, will need to be disposed of or recycled in parts, since they often won't see any further use in that condition. This means that you can say goodbye to reselling or donating your devices if they are broken, and you may need to get in touch with a WEEE waste collection service or local tip instead. 
How to dispose of computers in bulk
If you are a business looking to get rid of a larger quantity of old computers, you may find fewer disposal options available to you. This is especially the case since many household recycling centres are not open to commercial waste.
Instead, your best bet is to hire a professional waste removal company that is fully trained in removing WEEE waste and disposing of it responsibly.
---
At RecycleZone, we are highly experienced in getting rid of old, unwanted computers. As part of our furniture removal service, we can remove and dispose of any monitors, laptops, computers and other WEEE waste you need to shift. Get in touch to receive a free, fixed personalised quote, and to schedule a collection.