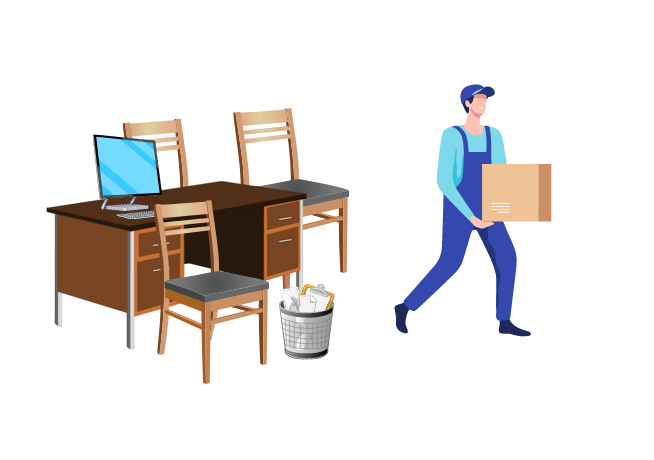 Computers are amazing devices but can consume a lot of space when no longer in use, cluttering up our business spaces and homes due to how challenging they can be to get rid of. Fortunately, our furniture disposal experts are on hand to help, recommending the best ways to get rid of old computers for free.
So whether you are a homeowner looking to get rid of one computer, or a business owner looking to get rid of numerous items as part of office clearance, you have come to the right place. 
What is WEEE waste?
Waste Electrical and Electronic Equipment (WEEE) is renowned for being a challenge to get rid of, and since computers, monitors and keyboards sit within this category, disposing of your unwanted devices may not be as easy as you might initially imagine. As a general rule, WEEE is defined as an object with a plug or that operates using batteries. 
Waste that falls into this category is subject to strict regulations when it comes to disposal, since it can often cause toxic, dangerous pollution if managed irresponsibly. This is because materials like lead, mercury and cadmium can all be found within electrical components. If not treated properly, these could result in leaks that put our environment, ecosystems and water supplies at risk. Hence you will need to find a better, more responsible way to get rid of them.
What to do before getting rid of your old computer
Before disposing of or donating your old computers, you need to follow a few crucial steps to ensure that the private details of yourself, your staff, and your clients remain secure. This is important even when getting rid of your own computer but critical when protecting the confidential information of your employees, partners and business strategy on a larger scale. Therefore, you need to ensure that you follow these steps before saying goodbye to your computer.
1. Take note of your log-ins and passwords 
In the modern-day, where we have masses of passwords to remember, we often rely on our computer and web browser to recall our login details on our behalf, and business computers are usually no exception. Often, to protect and keep track of your various login details and passwords, you should consider doing the following things:
Ask your employees to record their login information if you are part of a large organisation where it is unsustainable to track these yourself.
If you are part of a smaller organisation, asking one individual to keep the login details noted down may be more efficient.
Whatever you do, ensure that the way that you choose to store these is safe and secure, as there is little worse than all of your access information getting lost, or worse, leaked.
2. Wipe all computers for documents and data
Next, you will need to spare some time clearing and wiping the computers individually to ensure that all documents, personal information and online accounts are cleared entirely. This will prevent any private details about your employees, clients and business from getting leaked, protecting your team in turn.
In particular, ensure that you have cleared and de-registered any accounts, applications that store data, stored documents and
3. Restore your computers to factory settings 
It is also vital that, once you have noted all of your information and have wiped the computer systems, you restore the computer to its factory settings. This means that the computer will return to all of the default settings that it had when you initially purchased it before setting it up.
How to get rid of your computers for free
1. Donate them to the community 
One way to get rid of your old computers for free is to offer them around to smaller, less-funded businesses throughout the local area. You can do this by reaching out to other companies manually or through community pages such as those on Facebook to offer your old, unwanted computing devices. 
More often than not, they will be more than willing to collect these from you for free, or you can drop them off if they are situated nearby.
2. Take them to a local recycling centre 
Alternatively, you can take your unwanted computers to the local recycling centre. However, this is only a viable option if you are looking to shift an old computer unit from your home office. Since many local recycling centres are reluctant to accept commercial waste, businesses looking to get rid of their old computers are far better off booking an office furniture collection. 
3. Computer reuse schemes 
Fortunately, if your computers are still in good working order but are just looking to upgrade your systems, there are plenty of ways to donate them to be reused, usually by donating them to a free computer reuse scheme.
Some of the best computer reuse schemes include:
◾ WEEE Charity 
The WEEE charity accepts all kinds of unwanted computers, and they are willing to collect them from your property. The charity will then dispose of them in an eco-friendly manner or donate them to organisations in need. 
◾ Freecycle Network 
The Freecycle Network is yet another organisation that allows you to exchange or donate your unwanted goods by swapping or giving them to others on the platform, which will, in turn, prevent them from ending up in the landfill and creating greater pollution. 
◾ Computer Aid 
Computer Aid looks to bring your donated technology to developing countries, so it is a great organisation to donate your unwanted electronic goods to if you care about the cause.
◾ Certain Charities 
Certain local charities may also be willing to accept your unwanted computers too. For example, the Air Ambulance Service are always keen to accept donations and even offer a data wiping service for you, free of charge. It is always worth asking around, as you never know which charities may find your old tech useful!