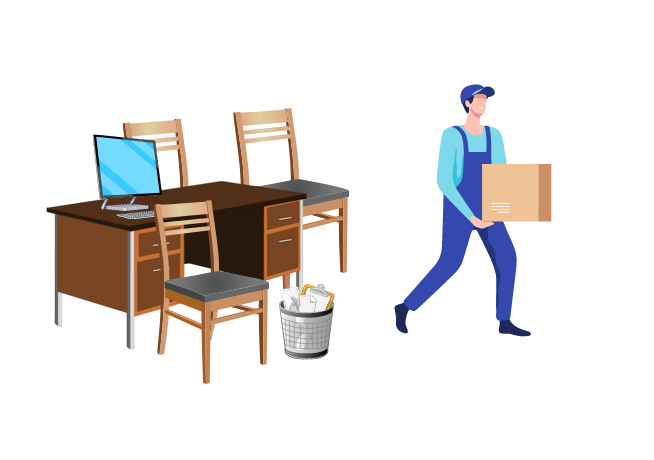 Whether you are preparing for a complete office renovation or are just upgrading your furniture and devices, knowing where to get rid of your old office furniture can be a real task.
Fortunately, there are lots of options to choose from (some better than others!). In this blog, our furniture removal experts run through some of the best and worst options. 
Can I take old office furniture to the tip?
If you feel that your old office furniture is unfit to be used by someone else, either because it is damaged or you can't find anyone who would make use of it, you may consider taking it to the local recycling centre to be disposed of. Since the vast majority of office furniture can be categorised as general waste, there is usually always somewhere to take your old office furniture to dispose of it at your local tip. 
However, this tends only to be the case if you are looking to shift a couple of pieces of furniture, not a huge amount of it. In fact, many local recycling centres prohibit commercial waste from being deposited at the site as it often consumes a lot of space and can be inconvenient for the running of these sites, which are designed specifically for domestic waste. As a result, you will often find that large vans are usually banned from entering these sites, and if you are looking to dispose of lots of old, unwanted furniture, you will get turned away.
Therefore, if you are looking to dispose of large quantities of commercial waste, it is worth saving your time and exploring other disposal options instead. 
Where to sell my old office furniture?
There is also the possibility of selling your old office furniture, but only if it is in good, usable condition. In particular, you may want to consider selling your old desks, chairs and computers to smaller businesses with smaller budgets who would benefit most from them. It is always worth asking around before trying to dispose of it, particularly as this is better for the environment, too.
If you are unsure of who you can sell your old furniture to directly, you may even want to consider using resale websites such as eBay, Facebook Marketplace and Gumtree, all of which are free to use and list your old office furniture on and can attract potential buyers in your local area. 
After all, whilst it requires a fair amount of time and effort to create and manage listings, businesses looking to make a bit of extra cash may find such an avenue worthwhile.
If you do decide to sell your old office furniture online, consider doing the following for the best results:
Take photos that are clear and with good lighting, so buyers can see what they are getting. 
Give the furniture a clean first, so that it looks its best.
Ensure you give details (through the description and pictures) of any scuffs and marks that may put the buyer off, since they will expect complete honesty from you when selling. 
Make it clear whether the furniture will be dismantled or whole, and how it will be delivered or collected. 
Consider selling the furniture in bulk as well as individually, since this may attract a wider audience. 
Be fair when it comes to pricing, but be willing to haggle! 
Consider that delivery may be costly, so it is often not worthwhile.
Can I donate my old office furniture to charity?
Some businesses may even want to consider donating their old office furniture to charity, since it is a good way to give back to specific causes and your local community. Many charities are always open to accepting unwanted furniture so long as it is in a reasonable condition and free from wear and tear. In particular, charities such as Emmaus, Sue Ryder and The British Heart Foundation all offer a collection service, but there is no guarantee that they will have availability or space to accept your furniture – especially if there is a lot of it! 
Will the local council collect my old office furniture?
Some individuals may also consider arranging a local council collection for their old office furniture, which can be arranged through the Gov.uk website or by contacting your local council. However, it is worth noting that these services tend only to be available for domestic properties, not commercial ones, and the wait can be quite lengthy depending on where you reside.
Instead, you may have far greater success just by hiring a professional office furniture removal team.
Professional office furniture removal services
Arguably the easiest and most efficient way to get rid of any unwanted furniture from your office is to call in the professionals.
By hiring an expert professional waste clearance team experienced in disposing of WEEE waste and other furniture, you will be able to sit back and relax knowing that your waste is being collected and disposed of responsibly. 
To book a fast, professional and affordable office furniture removal today, get in touch with our specialist furniture disposal team.