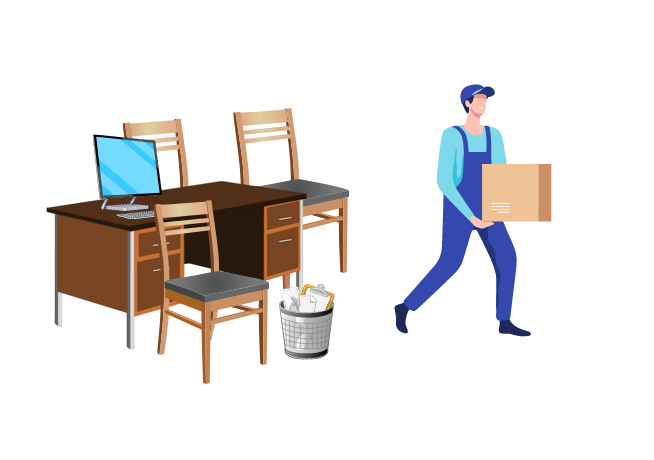 When you find yourself with lots of unwanted office furniture you need to get rid of, it can become overwhelming, particularly when you don't know who to call to dispose of it for you. Fortunately, our office furniture disposal team is experienced and trained in all things furniture removal and can help you shift your old office chairs, desks and computers.
Can you dispose of old office furniture yourself?
Can I take old office furniture to the tip?
One way to dispose of old office furniture yourself is to pay a visit to your local recycling centre, where you will need to break down and sort your furniture into the right recycling bins and waste containers. For those that live in close proximity to the tip and have a big enough vehicle, this can be a quick and efficient way to dispose of your old office furniture alone. 
However, many local recycling centres are not open to accepting WEEE waste, since they lack the right facilities to do so, meaning that it is worth checking what they accept before you visit. What's more, most local tips will not accept more than a few bits of waste at any one time, so if you are looking to clear out an entire office worth of old furniture, you will be better off hiring a professional waste removal team instead. 
Where to donate used office furniture?
You may also consider donating any office furniture that you want to get rid of to charity, which can either donate it to people in need or sell it so that the proceeds benefit those in need.
Charities are always keen to acquire high-quality pieces of furniture, so if your old office furniture is fit for reuse, you should look into finding a local charity with sufficient storage and demand for your unwanted pieces. A few examples of charities that tend to accept furniture donations throughout the UK include Emmaus, Sue Ryder and The British Heart Foundation.
When donating your old office furniture though, you should try to find charities that have collection services, as transporting bulky furniture can be a real challenge for business owners and individuals without suitable vehicles.
Where can I sell used office furniture?
Selling your unwanted office furniture can also be a good idea since it allows you to make some extra money whilst getting rid of your waste. You can sell your old office furniture online to locally based individuals and businesses if there is interest in it. For example, many people take to sites such as Facebook Marketplace, Gumtree and eBay to sell their unwanted goods to people nearby. Listing on these platforms is well worth considering when seeking to get rid of your unwanted office furniture.
Usually, to successfully sell unwanted furniture online, you need to price it competitively, ensure that it is in good condition and advertise it well using clear pictures and detailed descriptions. You may also want to try and sell it both in bulk and separately to appeal to more people.
Can a man with a van get rid of your office furniture?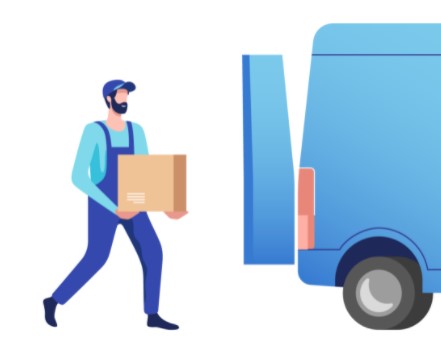 Many businesses and individuals may also consider hiring a man with a van to take away their old office furniture. However, before hiring a man with a van to get rid of your unwanted office furniture, it is worth looking into what they are licensed to do, since many man-with-a-van services are simply designed to move items from A to B, for example, if you are moving between properties. As a result, many of these service providers will not have sufficient waste carrier and disposal licenses. 
There are plenty of rules for how you can deposit and dispose of waste, so it is vital to choose a reputable company that can provide evidence of their environmental waste permits and other licenses if they are disposing of waste on your behalf. Failing to do so can leave you open to liability too. 
Can the council dispose of your old office furniture for you?
Depending on where you live, your local council may offer bulky waste collections to help you dispose of your unwanted office furniture. This is a great option if you cannot reach the local recycling centre or have the wrong vehicle to transport your waste. 
However, some council waste collection services may restrict their collection to five items or domestic furniture only. This means that whilst it may be a great choice if you are looking to clear out a home office, it is not suitable for commercial furniture clearances. You may be better off hiring a professional removal company instead if you are looking to shift large amounts of old office furniture.
Can a professional waste removal company dispose of your old office furniture?
Perhaps the most flexible and convenient way to dispose of your unwanted office furniture is to give it to someone licensed and experienced in doing so, such as a professional waste removal company. When you hire an expert office furniture removal team, you can be confident that your waste will be cleared professionally and disposed of responsibly, in line with strict guidelines.
The benefits of hiring a professional waste removal company:
Suitable for all waste types and quantities
Fast and efficient services
Flexible booking and availability
Affordable and Competitive Prices
Ethical disposal guarantee
Less hassle for you
Better for the planet
If your furniture is looking a bit worse for wear and isn't fit for donation or sale, why not hire a waste removal company today? Here at RecycleZone, we offer fast, flexible and experienced office furniture clearances and for a reasonable price.