It is a good idea to replace your microwave oven when it begins to age or breaks down altogether. However, you now have the difficult chore of getting rid of your old microwave oven.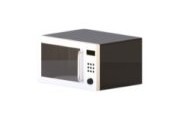 Microwave ovens are classed as WEEE waste and require specialised disposal, making getting rid of them a difficult task. Fortunately, our professional white goods removal crew can help you dispose of a microwave oven and can walk you through the procedure.
6 ways to get rid of a microwave
1. Take it to a recycling centre in your area
Due to the environmental harm that microwaves and other trash electrical and electronic equipment may do if they wind up in landfills, households are urged not to put them in their domestic or general garbage bins under white goods disposal regulations. On the other hand, they should be recycled, which can be done by taking them to a local recycling centre. Unlike certain other white goods, microwave ovens are smaller and lighter than other bulky household equipment, making them easier to carry to a recycling centre.
Your local government is obligated to provide disposal services that allow you to dispose of a variety of goods, which typically take the shape of disposal centres or "tips." These locations take a wide range of home garbage, including WEEE waste (such as your microwave).
Use this location search tool to find your local recycling centre.
The microwave oven will be disassembled and broken down into tiny fragments in a hammer mill when your local recycling centre has approved it. Before being transferred to smelters, these pieces are sorted into ferrous and non-ferrous elements. Other materials in the microwave oven will be recycled separately.
Tip: Remember to call ahead of time to ensure the centre isn't too busy to avoid waiting in long lines! 
2. Try to sell it (if it is in good condition)
If your microwave oven is still usable and in good condition, it could be worth your time to try to sell it online before sending it to be recycled. Due to the high cost of microwave ovens, demand for these white goods is frequently high.
One issue is that, due to the fragile nature of microwave ovens, they must be delivered with caution, which can be costly. As a result, we recommend initially attempting to sell your microwave locally, as whoever buys it can come and pick it up at a convenient time.
Try using sites like Facebook Marketplace, eBay, and Gumtree, which all have easy selling processes. Keep in mind that some sites will charge small fees. 
3. Give it to a friend
Another option for getting rid of your old microwave oven is to give it away for free to a family member or friend who could use it. Same as the selling option, this is dependant on the condition of your microwave oven.
However, if your friend just needs it for a short while until they can get one of their own, minor scuffs or scratches on the appliance won't matter.
4. Donate it to charity
You may also donate it to a local charity store and give it to someone in need. Here are a few charities that accept heating and cooking equipment, as well as other white goods:
Charities will only accept a microwave donation as long as it is in excellent working order and fulfils specific requirements, such as having certain labels and passing strict safety tests.
5. Organise a council collection 
Arrange for your old microwave oven to be collected as part of your local council's bulky rubbish collection programme. Most governments provide this service; however, availability varies significantly from one region to the next due to high demand and limited resources, which means you may have to wait a while for your microwave to be collected. 
You may have to wait up to four weeks for an appointment, so try to book in advance if you're able to.
Getting a local council collection isn't cheap either, and many councils will charge an extra fee for electrical waste since it's more challenging to dispose of.
6. Hire a professional furniture disposal company
Hiring a professional waste removal company may be the best option if you want convenience, efficiency, and peace of mind while disposing of your microwave oven. White goods removal firms can take care of your garbage from beginning to end, meaning you won't ever have to lift a finger.
RecycleZone can often provide same-day services when you make a reservation which means you won't have to live with an old microwave in your home for long. We are also very informed and experienced in waste disposal, so you can be confident that your white goods will be recycled and disposed of responsibly. Please don't hesitate to contact us for a free, no-obligation estimate for your furniture removal needs.