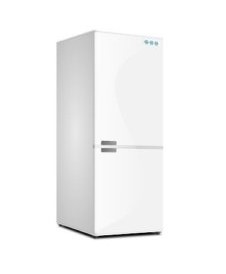 Built-in refrigerator removal may appear to be a complex operation, but with the appropriate equipment, safeguards, and patience, it can be done safely and quickly without damaging your back or surrounding cabinetry.
What is an integrated fridge?
To know the right course of action for fridge removal, you need to find out whether it is integrated or not.
Integrated refrigerators are a popular kitchen décor choice and a piece of high-quality equipment. They can often add value to your property and give your kitchen a sleek, high-end appearance.
The concept behind integrated appliances is simple: you take a regular appliance and adapt it to fit inside a kitchen unit, allowing a kitchen door to be installed in front of it. The result is an inconspicuous appliance, as it appears to be just another kitchen door.
Integrated fridge removal safety precautions
A refrigerator is a large, heavy appliance with a top-heavy design. If not handled carefully, a built-in refrigerator can tumble. It's advised not to move the appliance by yourself, but instead with someone who is physically fit.
Before relocating the fridge, RecycleZone suggests cleaning the coils and wrapping the plug carefully (once you've been able to unplug the fridge). Close the doors with tape, so they don't swing open at an inconvenient time. Keep the refrigerator upright to avoid moisture getting into the delicate motor parts.
Removing a built-in refrigerator
Although the overall look of an integrated fridge can be attractive, the built-in aspect can mean that the removal is a little more challenging than getting rid of a regular appliance. If you try to rush the process or use the incorrect equipment, you risk damaging the surrounding cabinets or other aspects of your kitchen.
Luckily, we have a team of waste removal experts who have put together this guide on how to remove an integrated fridge:
1. Thoroughly research the appliance
Before you start yanking and tugging at the massive appliance, do some research on how to replace your specific integrated refrigerator.
It may be that there is a unique cabinet opening that surrounds the appliance, a required order on how to approach the process or specific tools you need to use. You may even be lucky enough to find full, personalised instructions for removing it, which will save you a lot of hassle!
2. Defrost the fridge
If you're getting rid of your integrated fridge, then it's good to let it defrost before you start moving it. Dealing with a dry fridge is much easier than one that is wet and slippery.
It's best to leave it overnight before wiping any excess water from the inside. This is also an excellent time to clean your fridge if you need to thoroughly.
3. Protect your flooring
Moving heavy furniture always comes at the risk of your floors, especially if they're wooden or vinyl, as it can leave scratches if pulled across them.
To avoid this happening and protect your flooring, place a piece of cardboard or a thin slab of plywood in front of your integrated fridge. This way, you have a place to rest the refrigerator once you've pulled it out and means that any stray feet on the appliance won't scratch along your floor.
4. Remove the outer casing
Whatever the type of integrated fridge, you will need to remove some casing from around it. Depending on the exact model, you may need to take away the door, plinth, panels and trim. Don't worry though, you will most likely not need to remove any of the work surfaces.
5. Slowly lift the refrigerator
The next step is to carefully raise the fridge with a person on either side of the bottom, slip another piece of cardboard or plywood beneath the appliance, and place it down. This should allow you to shimmy the fridge forward and disconnect the appliance from the electrical outlet.
6. Move the fridge using a dolly
Before transporting the refrigerator, place an appliance dolly beneath the front feet and fasten straps around it. This will mean you won't have to haul this heavy piece of furniture any further than necessary.
Why will I need to remove an integrated fridge?
You may be faced with integrated fridge removal if you're moving house and want to take the appliance with you or buy a new one to replace it. Even if you're remodelling your kitchen and have decided on a new decorating scheme, you will most likely need to deal with the built-in fridge at some point.
What to do with your old integrated fridge
Once you've gone to the trouble of removing the integrated refrigerator, you need to decide what to do with it.
While you can take it to your local recycling centre or organise a council collection (that could take weeks), by far, the easiest method is hiring a professional clearance team to collect and dispose of your white goods. Choose RecycleZone, and you'll get a whole host of benefits, such as:
Same-day white-goods removal services
The confidence that your old dishwasher will be responsibly and ethically disposed of along with white goods disposal rules
Waste disposal teams that are quick, efficient, and dependable as well as genuinely enjoy their work
Reasonable and competitive prices
Free, no-obligation quotations
---
Contact us to learn more about our white goods removal service or to make a booking. We are also well-versed in all elements of furniture disposal, which is why we are often considered one of the top waste removal businesses in the UK.