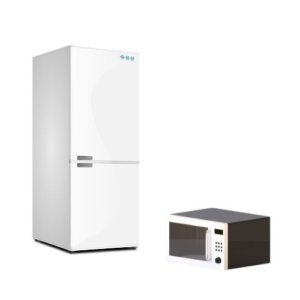 White goods such as refrigerators, freezers, stoves, and dishwashers are necessities in most households. But what do we do with them once they break or we buy new ones? Getting rid of these appliances can be tricky due to the white goods disposal law and numerous regulations surrounding them.
Our white goods disposal specialists have gone in-depth about the various rules and how you can guarantee you are adhering to them when disposing of white goods yourself to better understand how to do so in a legal manner.
Why are there white goods disposal regulations?
White goods are made up of a complicated mix of components, so recycling them correctly is incredibly important. Whereas if other household items are disposed of incorrectly, there won't be significant consequences, the materials used in white goods can make a detrimental impact.
By following the regulations surrounding white goods disposal, toxic chemicals (that are found in most white good items) are prevented from entering and damaging the soil and surrounding ecosystem by properly recycling white goods.
Because the metals in white goods can be recycled several times, there are many opportunities to extend the life and usage of these metals while also reducing the amount of waste that would otherwise end up in a landfill. We can conserve our raw materials and resources, minimise greenhouse gas emissions, and safeguard our planet by properly disposing of and recycling white goods.
The manner we dispose of white goods has the potential to both assist and harm the environment. Because of this, both the government and professional waste management businesses are working hard to guarantee that white goods are disposed of in an ethical, responsible, and legal manner.
White Goods Disposal Laws
Here are the main laws and regulations you should take notice of when looking to dispose of your white goods. These appliances will often include hazardous chemicals or POPs present within circuit boards, motors, and other plastic parts, so taking the right steps will see you comply with the law and protect your environment.
◾ The Waste Duty Of Care Regulations 2005
When it comes to disposing of your white goods, the Waste Duty of Care Regulations of 2005 apply. This regulation, however, applies to all household waste, not only white goods. If landowners and inhabitants break this legislation, it is considered a criminal offence that can result in severe consequences.
Under these regulations, you have two broad options when it comes to disposing of your rubbish. You can choose from the following options:
Hire a licensed removal firm recognised and accredited by the Environmental Agency and can offer the necessary documents, such as waste transfer notes, to demonstrate proper disposal.
Send your waste to a licensed waste disposal site, such as a recycling centre.
It is considered fly-tipping when you don't do any of these options with your white goods and instead dump them on someone else's or public property. It can result in a hefty fine and, in some circumstances, a jail sentence.
◾ The Waste Electrical and Electronic Equipment (WEEE) Regulations 2013
This law is a set of regulations that govern the disposal of waste electrical and electronic equipment. The Waste Electrical and Electronic (WEEE) Regulations 2013, which became law in 2014, covers most devices with a plug or require a battery to work. It is also one piece of legislation that controls how you can dispose of white goods. Refrigerators, microwaves, washing machines, stoves, and dishwashers are all controlled under this legislation because they are classified as large home appliances.
The primary objective of this legislation is to minimise the quantity of WEEE waste and white goods that wind up filling landfills. It imposes new duties on white goods makers and distributors, such as funding WEEE collection, treatment, and recovery in some circumstances.
Obligations of retailers and producers
Retailers and distributors must provide some form of white goods take-back system under these WEEE regulations, either by offering an in-store service where customers can return their old white goods when replacing them or by establishing a designated collection facility where customers can take white goods for free.
Responsibilities in the home
Households are required by the rule to dispose of their electrical waste appropriately. It is assumed that a white item with a crossed-out wheelie bin symbol should not be placed in your household garbage bin. Instead, you should recycle it yourself or hire a professional waste removal company to do so for you.
This is because WEEE must be disposed of separately from standard rubbish as its specific components and contents cause more harm if disposed of in landfills.
◾ The Removal of ODS Regulation
The Removal of ODS Regulation, which controls the disposal of refrigerators, is another applicable legislation when it comes to getting rid of white goods.
Refrigerators must be disposed of with even more care than other white goods under this rule. This is because the chlorofluorocarbon gases included in refrigerators have been shown to contribute to ozone depletion if released into the environment, making incorrect disposal extremely riskier.
The European Commission proposed this rule, which states that any refrigerators containing chlorofluorocarbon gases or any other hazardous material must be decontaminated before being recycled.
How to make sure you're following the rules when it comes to getting rid of your white goods
While the legislation governing the disposal of white goods is complex, you can take a few steps to make it easier and avoid breaching the law.
First, take your white goods to a recycling centre to guarantee that they are correctly disposed of and recycled. However, you'll need access to a large car, live close to the tip, and have some spare time because moving and unloading your white goods may be a time-consuming and often frustrating experience.
Hire a professional removal team to do it for you
To ensure that your white goods are being disposed of and recycled in accordance with the law, you may want to seek assistance from a specialist furniture disposal team who can quickly and efficiently collect, transport, and dispose of your white goods with ease and avoiding environmental damage. Get in touch with our team for more information and to schedule a collection.