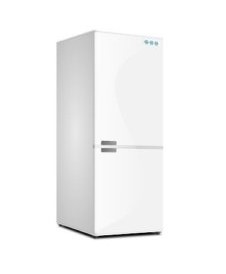 To dispose of the old fridge or freezer, the majority of people believe that they may take it to the tip. Nonetheless, several factors must be taken into consideration before making such a decision.
Our experienced furniture removal team are on-hand to help walk you through the process of deciding whether or not you should take your fridge to the recycling centre, as well as giving helpful advice to ensure your visit is successful.
Can I take a fridge to the tip?
Residents across the UK can transport their refrigerators and all white goods to a local recycling centre where they will be able to dispose of them. The specific centre will break down the materials and start the recycling process, so you won't have to worry about meeting white goods disposal laws. 
When taking fridge freezers (or any other white goods) to the tip, transportation is a complicated process. You will most likely need to hire a larger vehicle to do so, which will come at a cost. Even then, some tips have started to ban the use of vans to dispose of residential waste, which makes the process even more difficult.
A guide to moving a fridge freezer
If you are moving a refrigerator but live alone, make sure you ask a neighbour or coworker to help. Don't try to do it yourself, as you risk injuring yourself and damaging your home or car.
1. Use a moving dolly
A moving dolly will make relocating the fridge much easier if you're looking to take it to the tip yourself – you can often rent a dolly for a small fee. Measure the base of the fridge and make sure that it will fit on it first to avoid having to return to the rental company and ask for a different size.
2. Secure the refrigerator in an upright position on the dolly
You should be able to move the dolly beneath the fridge in most situations, but you can gently raise it if necessary.
The fridge freezer should then be secured to the dolly using bungees or straps. It's critical to avoid tilting as much as possible when lifting and putting the refrigerator on the dolly as the oil from the compressor might seep into the cooling tubes if it is not kept upright.
3. Move carefully and slowly
Once the refrigerator is fastened to the dolly, proceed slowly and carefully. On the other side of the dolly, make sure you communicate clearly with your helper, especially if you need to navigate down any stairs or around obstacles.
Can you lie a fridge down to transport it?
When you're transporting your fridge to the tip, you need to make sure it is placed in the correct position.
Refrigerators must always be transported upright. Laying your fridge or freezer on its side is a bad idea. This is because the oil will pour into the cooling tubes while the refrigerator is on its back or side, and it may not drain even when the fridge returns to an upright position. As a result, your refrigerator might cease chilling correctly, or fail.
What are the harmful substances in fridges?
Fridges often contain chlorofluorocarbons, an ozone-depleting chemical, with compounds of carbon, chlorine, and fluorine atoms. This chemical can be extremely hazardous to the environment if discarded in landfills and not disposed of properly.
As a result, it's critical that they're appropriately handled, either by you or by a professional.
What legislation is relevant to householders disposing of an old fridge?
Refrigerator disposal is made up of 3 important sections of legislation, with regulations you should keep in mind when choosing your disposal method:
◾ Waste (Household Waste) Duty of Care (England & Wales) Regulations 2005
All white goods waste should be handled with care to ensure that all types of waste (not just old fridges) are disposed of appropriately.
This means that you should take your waste to a registered waste disposal facility (such as a local recycling centre). Alternatively, make sure that any waste removal service you use has been registered with the Environment Agency and will issue you a Waste Transfer Note that contains all the relevant information.
If you violate this duty of care (which is a criminal offence) and if your fridge is disposed of improperly (e.g. fly-tipped), you may be held civilly liable.
◾ Removal of ODS – EC regulation 2037/2000
As well as this, the EC rule 2037/2000 prohibits the unsafe disposal of any ozone-depleting substances (CFCs and HCFCs). They must be removed in a controlled manner before disposal of fridges, something only highly experienced and qualified individuals can do.
Non-compliance can result in a fine of up to £2,500, and you may also be prosecuted.
◾ The Waste Electrical and Electronic Equipment regulations
There are several different approaches to WEEE recovery and recycling. These regulations place obligations on manufacturing, distribution, retail, local governments, waste management businesses, importers, and exporters.
They encourage the reusing, recycling and recovering of fridges wherever possible to lessen the impact on the environment.
Learn more about waste disposal laws here
What if I can't take my old refrigerator to the tip?
Unfortunately, taking your fridge to the tip is not the ideal solution for many people. This is because it often includes a lot of heavy lifting, specialist equipment and large vehicles. Fortunately, hiring a professional waste removal company is the ideal solution and is a quick and inexpensive option.
Book a one-off white goods removal if you're searching for a more convenient way to get rid of your old fridge or freezer. Our furniture disposal crew can supply you with a fixed, free, and fair estimate with no commitment to schedule.
How to prepare fridge freezer for removal
To make getting rid of your freezer that little bit easier, our white goods removal team has put together a guide on how to prepare a fridge freezer for removal.
1. Empty the contents of the fridge
Remove anything stored in the fridge, including anything that has been placed on the exterior, such as magnets. Once you've removed the food from your old freezer, return it to a freezer with a comparable temperature as soon as possible to keep it fresh.
If you're waiting for a replacement freezer and don't have anywhere to put the items you removed, it's a good idea to invest in some freezer bags to keep it cool while you wait. You can even ask a neighbour or friend whether you can borrow space in their freezer to keep the food from spoiling.
2. Take the shelves out
Remove all of the moveable or detachable components, including shelves, trays, and anything else within the fridge.
Some removal companies will ask that you simply fasten the shelves in the fridge with tape as this the more convenient method. If you are unsure of what to do, get in touch with your chosen removal team.
3. Unplug the refrigerator freezer
To prevent movement during the removal, unplug the plug, wrap the power cable, and bundle it into a tight, secure coil. This means that the cord won't get in the way during the process of removing your fridge, which could otherwise be a safety hazard.
4. Allow the freezer to defrost
Since there is most likely a buildup of frost, it is particularly important to defrost the freezer before moving it. On average, this will take anywhere between six and eight hours, so make sure you allow yourself plenty of time.
The easiest way to defrost your freezer is to let it sit overnight and then give it a quick clean down in the morning.
5. Lock all the doors and secure them
To protect the fridge freezer doors while they are being moved, keep the fridge/freezer doors secured – you can use a bungee cord or a strong enough rope to perform the job. If you have a double-door refrigerator, tie the doorknobs together.
6. Wait for the team to arrive
All you have to do now is sit back and wait for your freezer to be picked up by the removal team, who will ensure that your white goods are recycled and disposed of in accordance with white goods disposal rules.
When you book our white goods removal service, you won't have to lift a single finger – which is much easier than trying to take your old fridge to the tip. Get in touch today to get a free, no-obligation quote, or to arrange a collection.